If you live in DC, or are planning a visit, you need to make your way over to
Glen's Garden Market
, just north of Dupont Circle. It's a great neighborhood grocery store, offering "good food from close by". And where else can you grocery shop while sipping beer or wine?
Everything in the market comes from local vendors, in DC and the surrounding areas. The meats are cured and smoked in-house, along with a variety of salads, prepared foods, and stocks.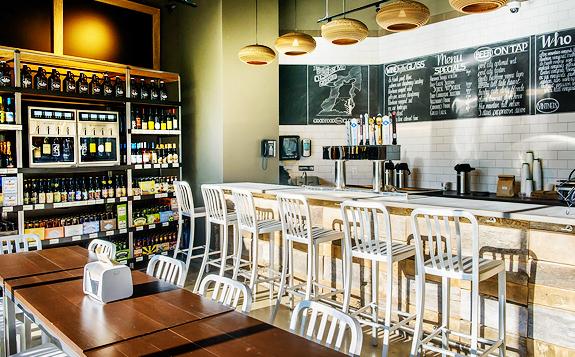 In addition to the grocery items, they have a bar serving up $4 pints, and a wine dispenser that offers two-, four-, and six-ounce glasses, so you can taste wines before purchasing. If beer or wine isn't your thing, they also offer coffee and tea to sip while you shop.
Since we couldn't leave empty handed, we walked away with some pork spare ribs, collards, and sunchokes. With the weather warming up, we fired up the grill, and threw the spare ribs on to slow cook. We simply rubbed the ribs with some Dinosaur BBQ cajun rub, applewood smoked salt, and a liberal brush of Dinosaur BBQ sauce mixed with a touch of grapeseed oil and honey.
kale & farro hash
. Once they were crisp, we tossed in some thinly sliced red onion, minced garlic, and the collards. We deglazed the pan with a splash of sherry vinegar, and in minutes, our side dish was complete.
It was a great, summertime meal, from a great new grocery store. So get on over to Glen's and check it out!
*pictures of the market sourced from Glen's Garden Market, Urban Daddy, and The Washingtonian